James Corden Named His Newborn Daughter Beyoncé, and Then This Happened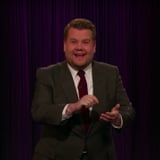 James Corden and his wife Julia welcomed a baby girl earlier this week, but when the late night talk show host returned to share his version of events, it was even better than we could have imagined. For starters, James revealed that Julia was just visiting the doctor for a routine check-up when they found out their little girl was ready to make her debut.
"There's really no easy way to bring up the fact that you have to tape a show that day. Take my word, you can't say that without sounding like a d*ck," James joked. Luckily, Harry Styles was on hand to fill in for him in the nick of time.
Beyond that, James also revealed that he was overcome with emotion at the birth of his third child, and in the midst of his tears, he told one of the doctors that he was naming his daughter Beyoncé. Yes, named after Queen Bey herself.
"The nurse went to the other side of the room and started filling out a form with the name Beyoncé!" he said. Watch the full video above to find out if James and Julia decided to stick with the superstar name.

Source: popsugar
James Corden Named His Newborn Daughter Beyoncé, and Then This Happened